Enjoy a Taste of the Countryside at the Stables Café
September

Monday - Sunday

9:00 AM to 5:00 PM

1st - 30th September
The Stables Café by The Pantry at CLIFF is a delightful setting for breakfast, lunch or a light bite. Sit back & relax in the warm country-style surroundings where you can enjoy our extensive menu featuring an abundance of fresh local produce, prepared & cooked daily - where possible, the chefs uses fruits, vegetables and herbs from our gardens. Our welcoming café is the perfect place to enjoy a meal with friends, or just sit & watch the world go by. For group bookings, please email our Estate Team at [email protected] or telephone +353 (0)51 384 115
FAMILY FRIENDLY
Following their garden adventures families will enjoy taking a seat at the Stables Café which offers a delicious and nutritious menu for breakfast and lunch for adults and children with ample seating available inside and on the outside terrace at the main Mount Congreve House. For our younger guests, why not try our signature egg and soldiers and daily children's menu, perfect after exploring the Mount Congreve forest playground?
Highchairs and baby-changing facilities are available.
Children will adore the variety of treasures in the Secret Garden shop from retro sweeties to books on nature and soft toys from the woodland world.
TRADITIONAL AFTERNOON TEA AT MOUNT CONGREVE GARDENS
Enjoy some old-world charm and visit Mount Congreve Gardens for a traditional afternoon tea in the beautifully restored Tack Room. Surrounded by gardens, trees, birds and wildlife, our afternoon tea is served on three-tier cake stands with crisp white linen, Irish silverware, and fine bone china. Sit back & relax while enjoying freshly prepared finger sandwiches, scones and decadent pastries in the warm country estate surroundings.
Our afternoon tea is an experience you won't want to miss when visiting Mount Congreve Gardens.
TO MAKE A BOOKING:
Call 051 348 075 between 9:00 am and 5:00 pm
Please note between 12.30 to 2.30 pm we are extremely busy and may have to take your number and return the call so if possible ring outside of lunch times. Online booking is available 24 hours a day by clicking here.
Reservations are confirmed only by credit card. Balance to be paid on the day.
Cancellations
No-shows or cancellations within 24 hours of arrival will result in the full payment taken from your credit card.
Changes or cancellations can be made 24 hours prior to arrival time by calling us on 051 348 075 or amending your booking in the OpenTable app.
Gift vouchers are also available to purchase in-store
DOG- FRIENDLY DINING
Although we cannot permit dogs or animals other than registered guide dogs into the main gardens, the Stables Café is dog-friendly. Dogs must wear a leash and be under the control of their owners at all times. Dogs must not cause a disturbance to other patrons. Water bowls are provided upon request.
While you're there you can also take the opportunity to browse our pet-friendly section in the Secret Garden shop. Discover more here
THE PANTRY AT CLIFF
Designed by the exceptionally talented CLIFF Executive Chef Sean Smith, Stables Café by Pantry at CLIFF offers delicious lunch options and tempting to-go selections. From frothy artisanal brews using local coffee experts Drury Coffee, to delicate desserts, sumptuous house-made savoury treats, cured meats, a selection of authentically Irish preserves, and so much more, The Pantry at CLIFF is a gourmet foodie's go-to destination.
"In designing the menu, we wanted to offer our guests a taste of the fabulous local produce from Waterford County. The multi-generational offering has been designed to go from morning to early evening with something for everyone" CLIFF Executive Chef Sean Smith.
Take some time after exploring the majestic Mount Congreve Gardens with a treat from the CLIFF Kitchens at The Pantry. The vibrant menu includes a selection of nourishing house-made empanadas, toasties, and wraps, along with fresh sandwiches prepared with our own sourdough and Guinness brown breads.
Head Chef Bruno Dantes creates a daily selection of Irish favourites including his signature Cottage Pie, complimented by a superb range of nourishing salads using the freshest of leaves and vegetables from the gardens and local area. Finish off your perfect day trip with a wide selection of fresh cakes and pastries, including our range of vegan and gluten-free items.
"I love working with the superb local ingredients from both the Mount Congreve Gardens and local producers. We enjoy fresh seasonal produce which is wonderful in creating a menu selection that adapts to the seasons." Head Chef Bruno Dantes.
The all-new breakfast menu offers tasty treats including local hen scrambled egg and sourdough toast, fluffy pancakes and sausage and bacon Waterford Blas. This is complemented by a selection of homemade scones and Danish.
For our younger guests, why not try our signature egg and soldiers and daily children's menu, perfect after exploring the Mount Congreve forest playground?
For the ultimate treat, make a reservation to enjoy the Signature Pantry Afternoon Tea served in the beautifully restored Tack Room. This decadent offering of freshly cut sandwiches, homemade scones and seasonal desserts offers a prime location to enjoy the picturesque gardens.
With sustainability at the very heart of its operations, The Pantry is fully committed to empowering local communities and suppliers. In union with a small family-run coffee roastery, this charming café is committed to delivering the most premium quality beverages.
Two Exquisite Locations
If you fancy a quaint, otherworldly alcove in the lush Kildare countryside, segue to The Pantry at Trellis in Cliff at Lyons. Or, soak up the sheer scenic splendour of Mount Congreve Gardens, which envelopes within its bounds the elegantly furnished Stables Café in conjunction with The Pantry at CLIFF.
---
Our Ethos
Our ethos is to be as sustainable as possible by using fresh produce from our walled garden and working closely with our gardeners to provide you with healthy seasonal produce. By doing so, reduce our carbon footprint, food waste, and provide natural food free from additive and chemical preservatives whilst supporting artisan producers from Waterford and the island of Ireland. During the summer months, we sell homegrown tomatoes, potatoes, cucumbers and much more.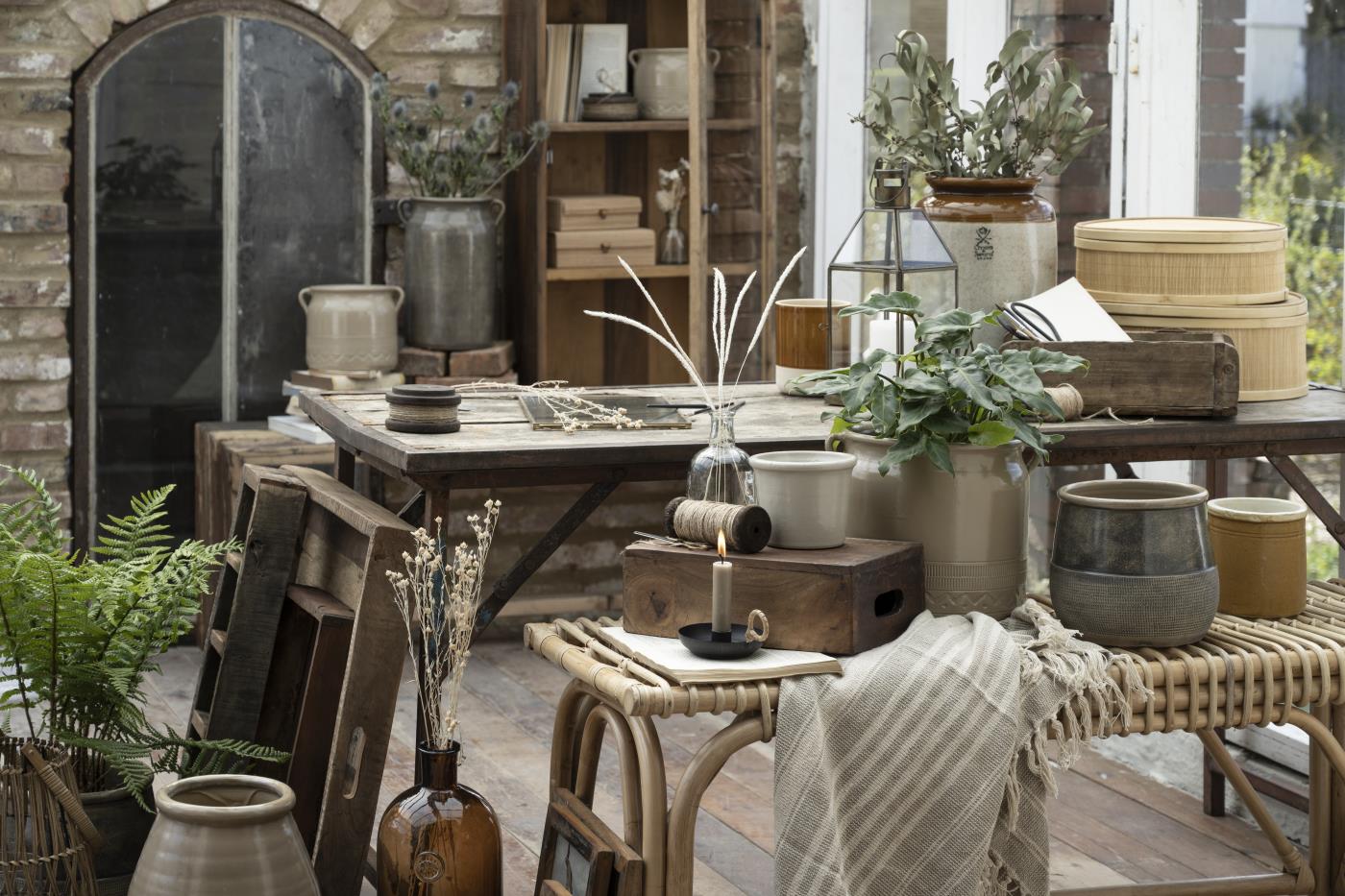 The Secret Garden Shop
Bring Gifts and Plants home
Located in the heart of the world-renowned Mount Congreve Gardens, the Secret Garden shop offers a unique range of gift ideas inspired by the beauty of nature and the gardens.
Shop now